The Fleet water cooler is Ebac's latest water cooler innovation featuring Direct chill, Ice bank technology and our revolutionary Direct Dispense system creating the Fleet Direct Dispense+
The Fleet cooler promises reliability and optimum performance. Designed to be a key player in the mains fed water cooler market Ebac's fleet cooler incorporates direct Chill and Ice bank technology to offer excellent performance and simple sanitation methods.
The fleet water cooler delivers high quality drinking water at the touch of a button. This is a robust, reliable mains fed water cooler which will fit well into any environment. With a choice of water options including: Ambient and Chilled, Chilled and Hot, Cold Hot and Carbonated the Ebac fleet will offer customers the perfect drinking experience every time.
The Fleet is well engineered and designed to withstand what ever your customer can throw at it.
The Fleet provides unlimited, filtered chilled water on demand due to the incorporation of Ebac's Direct dispense + technology.
As the growth of the mains-fed water cooler market continues, customers are increasingly citing concerns about sanitisation and contamination with mains fed Water coolers. With the Fleet now available, you can put your customers minds at rest. The fleet filtration system reduces the chance of microbiological contamination by 98% and is one of the safest mains fed cooler available on the market.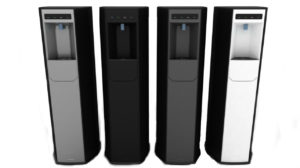 Sanitisation also takes a matter of seconds with the fleet cooler, which means you can sanitise 40% more coolers per day without the need for chemicals, complex training or equipment.